High School Science Fairs
Jun 14, 2011 at 09:30 AM | Sandra said: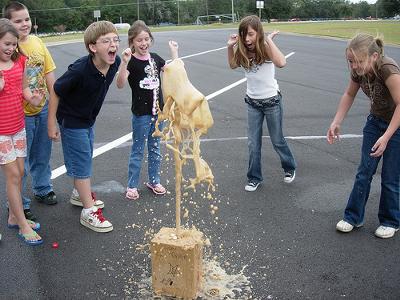 I remember the science fairs of elementary school: the baking soda volcano, sponge-based salt crystals and the many variations of moldy bread. These classic projects always seemed to bring science to life in an exciting, cool, and often gross way; but is the elementary science fair the last time students get to be so involved with science?
Science fairs and projects allow children to learn science by doing it. As a student I remember enjoying most of the projects that we did do in elementary and middle school because they had such visually striking and active outcomes. I don't think any of my high school science projects could compare with the more fun and interesting creations from earlier years.
The hands-on projects I remember from high school were dissections and the making of many, many models. Unfortunately, these projects were not as messy, interactive or entertaining. The high school projects that were really fun involved liquid nitrogen and burning chemicals; which, of course, were normally handled by my teachers. The science fairs that did exist for students at my age were only held on the state or national level and were selective competitions that only a few students could attend. Are elementary science fairs the last of their kind for growing students?
Because of the nature of high school, it may not be as easy to put together a science fair as it is for middle schools. Generally, high schools have larger student bodies are teaching more advanced subjects. The possible projects for a high school science class may not be supported by the funding or even technological capabilities of the school. Teenagers also have more extracurricular activities like balancing a possible job, learning to drive, homework and a blossoming social life; and they may not have the time, or even an interest in projects like mache volcanoes and potato batteries.
Are there any high schools today that do have science fairs?
Science learning games are engaging, pedagogical, fun and can be completed during or after class. Serious games can provide a safe, cost-effective alternative to a possible high school science fair. Is there a way for high schools to do both?